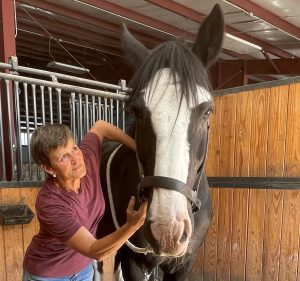 Renée has been passionate about the health and well-being of humans and animals alike since 1987 with a strong interest in natural modalities. Her love for horses was sparked at a very early age when, as a toddler, her father would hold her on the back of his horse and walk her around. She maintained her connection with horses during her teenage and young adult years via periodic trail rides in Florida and a 5-day round-up in Nebraska.
Her passion for animal well-being is reflected by her decades of volunteer service as a wildlife rescuer, rehabilitator, educator, and conservationist where she has contributed to wildlife and environmental conservation work in Australia, The Republic of Panama, and the US. Her more recent volunteer work with equine therapeutic riding and equine rescue / rehabilitation stables in Colorado Springs rekindled a connection among her love of horses and her passion for health and natural healing.
She knew that pursuing the Masterson Method® in depth was her next path after a weekend seminar when she observed how the softest touch and intention could lead to profound releases of tension in therapy and lessons horses as well as rescues. After completing her Equine Therapeutic Massage Therapy certification, she went on to become a Masterson Method® Certified Practitioner and Masterson Method® Equine Specialist while living in Colorado Springs. She has since moved back to her home state of Florida.
Renée's clients have ranged from Grand Prix dressage to Western pleasure riding horses and from Clydesdales to ponies. In addition to working with owners to improve the connection between horse and rider, she also enjoys creating possibilities for connection and caring between horses and humans by bringing Masterson Method® techniques to the staff, volunteers, and clients of equine-assisted service programs with a focus on giving the gift of bodywork to therapy horses.
With a doctorate in clinical pharmacy, bachelor's in biology, extensive study in the field of nutritional genomics, and post-graduate studies in evidence-based medicine and sustainability, she has developed a robust knowledge base that supports her practice of sound, high-quality and holistic equine bodywork that is based on the latest science and a love for helping others improve their health and well-being.