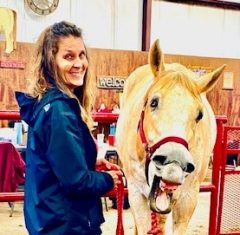 I have been with horses since I was in fifth grade. I've rodeoed, guided, bred, raised, trained and simply loved horses throughout my life. However, I never knew how much more connected I could get with them and how I could help them and that I was missing that over the years. Then I found The Masterson Method®.  I happened upon the Masterson Method Equine Specialist clinic surprisingly right when I really needed it too.
I volunteer at a therapeutic program here in Georgia. One of our horses, Bella, injured herself. My friend invited me to come see the horse massage therapist work on Bella. Watching Bella respond and relax brought back a desire I had when I was much younger about being an equine massage therapist. I had also gone to pre vet school specializing in equine disease management, but due to financial issues, I couldn't finish. So, this sparked something in me to get on the internet to find out how to get certified and fulfill my dream to just help horses feel better and heal. Not to mention making the owners happy while I work on their horse. Or even be able to teach them the bladder meridian to help them help their horse, help them to relax and to tighten the bond between them and their horse.
I went on the internet and started looking at all the classes and certifications out there. It was during Covid so many were online or on hold. I happened to just somehow find my way to the Masterson website and in the MMES section. I couldn't believe all it offered and that it was specifically geared towards horses that work in therapeutic settings and people in those settings that also needed a little therapeutic time to themselves.
I showed my friend who ran the therapeutic program and told her I wanted to pursue it, to help her horses out and to benefit other horses out there that can use some body work too.  She, funny enough, happened to have the DVD "Light to the Core" and gave it to me to watch. I LOVED it and actually began to practice some of the techniques on Bella! She really responded and actually got better! We didn't need the massage therapist anymore and I was able to use the methods I learned to help her get better. So, I signed up for the MMES and went to the course with my daughter. We had an amazing time and Lise Lunde was an amazing teacher! I learned so much from her and it really brought my gift out more to work on these horses.
I always knew I had a gift to connect and love and help horses. I just never knew how big and impactful it was and didn't know how to express it or share it until I took this class.
Thank you so much! I love giving back and this does in so many ways– to the horses, the riders, the owners and not to mention to me
I'm so excited to also take more courses in the future to learn more to help out more horses in more ways.  Thank you for allowing me to find my gift and to share it. Life changing.