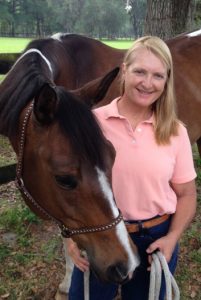 Karen has had a love of horses since a child. Her passion was sealed with her first pony and has continued to grow with other horses that have shared her life. After retiring from her professional career to raise a family she became a certified PATH Intl. registered instructor in 2002 and coached Special Olympic riders to state competition medals.
Karen experienced firsthand the healing power of horses with her riders. In addition she realized special needs arising in the therapeutic horses as a result of their workload.  Eager to revive their physical and emotional wellbeing, Karen searched for a solution and found The Masterson Method®. Its techniques help the horses rebalance and release tension keeping them happy and comfortable in their therapeutic careers.
Becoming a Masterson Method® Certified Practitioner has given Karen the opportunity to give back to those noble horses. Karen earned certifications as a Masterson Method Equine Specialist and a PATH Intl. Equine Specialist to further integrate the mind, body, and spirit of humans with horses. This journey has proven to be the most rewarding.  Karen is currently working with therapeutic horses, rescue farms, and veteran workshops in tri-county area around Ocala, Florida. She has since retired from PATH Intl.