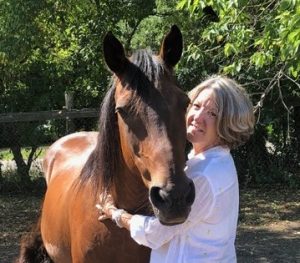 I'm originally from the suburbs of Detroit, and I have now lived most of my life in here in Wisconsin. I've loved horses all my life but I rarely got to interact with any horse through the years except for the occasional trail ride or going to the state fair. I have always wanted to work at a barn and learn anything and everything I could about horses. I was fortunate enough to retire in 2017.
In the Spring of 2018 a Welsh pony named Victor crossed my path. Victor was in horrible shape. I ended up rescuing him that July and brought him to Jericho Creek farms II which also houses the therapeutic riding program named Horse Power Healing Center (HPHC). They say the horse finds you. I believe Victor came into my life to bring me to the world of horses.
That September a fellow friend (who has 3 horses) asked if I would like to go to an introductory Masterson Method Weekend Seminar in Ohio. I did and I was hooked! I then decided I wanted to focus on helping horses in equine-assisted services programs like HPHC and enrolled in the Masterson Method Equine Specialist Program. I had 9 wonderful months with Victor until he succumbed to the years of neglect and starvation. I had practiced what I had learned on Victor and the other therapy horses at the barn.
I am looking forward to partnering with HPHC and other equine-assisted services programs, if called, to share how we can give back to the horse with the Bladder Meridian technique and help them release tension while helping people at the same time. Ultimately, I love working with the horses helping them recognize their tension points and watching the releases. I feel so privileged and honored to work with these amazing creatures we call horses. My life is forever changed for the best:)
I live in Hales Corners, WI with my husband Dan our dog Gunnie and our cat Loki. My Chauncey (Morgan) and my husbands Mick (Arabian) live in Eagle, WI.
5871 South 108th Street , Hales Corners, Wisconsin 53130, United States