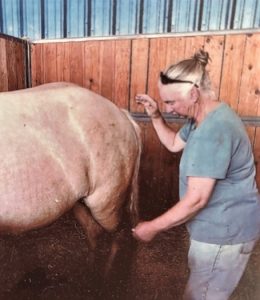 It's a story many have heard before…
I have had horses in my head and heart even before I was aware of them there.  The one piece of evidence is a family story of a picture of me on a pony at about 2 years old.  The interest that has never waned is being around horses, however that was possible.  Weekly lessons, horse camp, trail rides with friends, intercollegiate riding and, at last, horse ownership.  The universe led me to Combined Training, Eventing is the more "modern" term.  Forty years later, I have added certification as a Masterson Method Equine Specialist to my resume.  I have been working in the field of Equine Assisted Services for twenty years as an Equine Manager and a PATH, Intl. Advanced Certified Therapeutic Riding Instructor.  In addition to daily interaction with horses I had the privilege of witnessing every day the profound way that horses can help humans move forward in learning to navigate life.  Being a small part of so many journeys by sharing the charisma of horses has given purpose and direction for my Life travels.  I continue to learn and grow.  The addition of becoming a Masterson Method Equine Specialist and learning about equine bodywork has opened a way for me to give something back to these incredible animals.
I hope to share this gift to horses with some of you in the central New York area.